Intern Week 2020
It is the best time of the year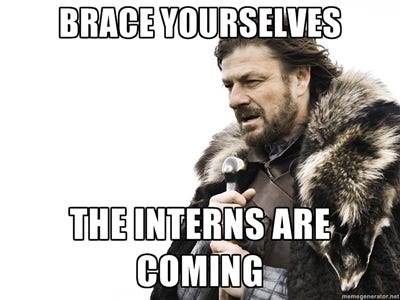 It is finally here. Intern Week 2020. For those who don't know, the last Thursday of July is National Intern Day and at intern.club, we celebrate this whole week as Intern Week. In pre-covid times, this would have been meant bonfires, birthday parties, and trips to Vegas (this has happened before).
Instead, we are bringing in some very special guests to speak to our community this year.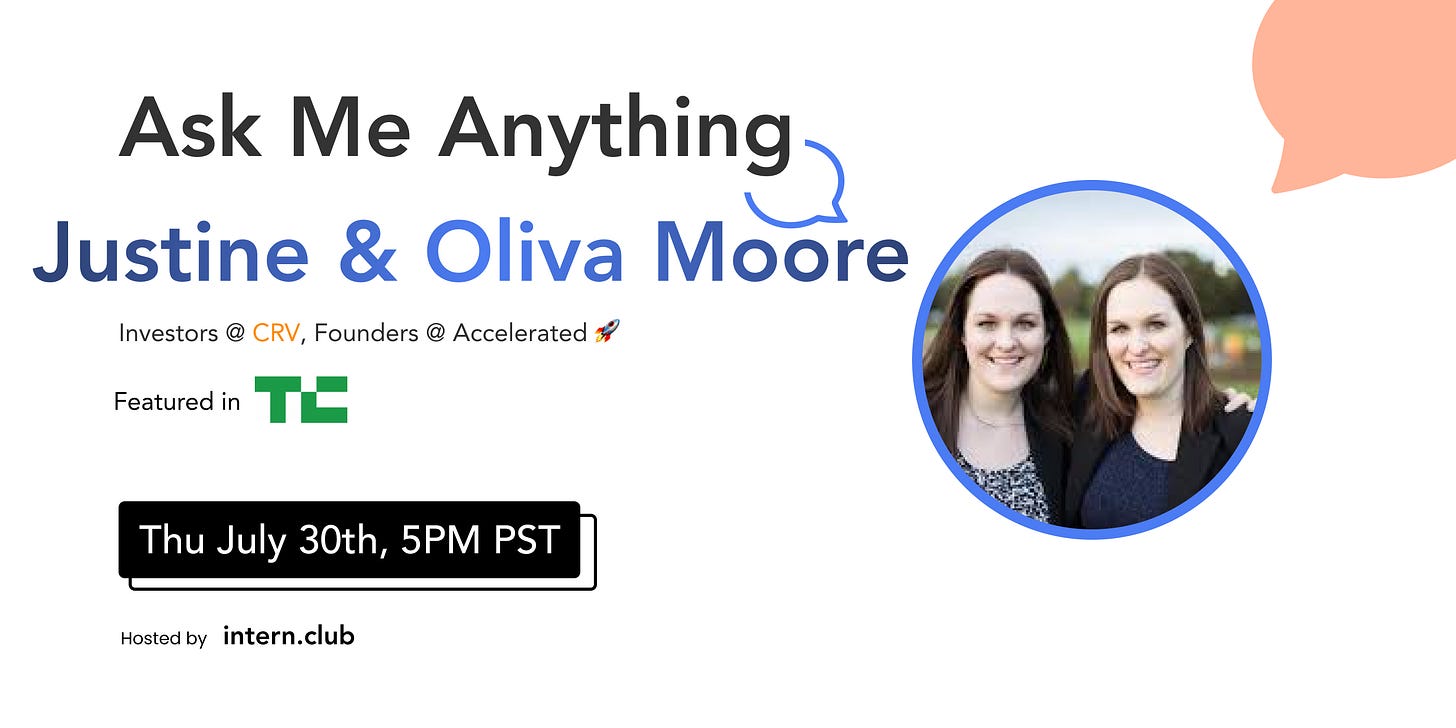 Justine and Olivia Moore, affectionately referred to as the Venture Twins, are Investors at CRV, one of the nation's oldest venture funds, which counts breakout successes like Airtable, DoorDash, Bird, Dropbox, Udacity, and Patreon among others in its portfolio.
Justine and Olivia previously started Cardinal Ventures, one of the preeminent accelerators at Stanford, and worked at Goldman Sachs before getting into VC. They also founded Accelerated and the Liftoff List, which supports student entrepreneurs everywhere. RSVP to ask them something.
---
This year, for the very first time, we are organizing InternCon, which is now officially the largest ever virtual conference for interns, as we had our 3000th attendee register. If you still want a VIP ticket, follow us on @theinternclub.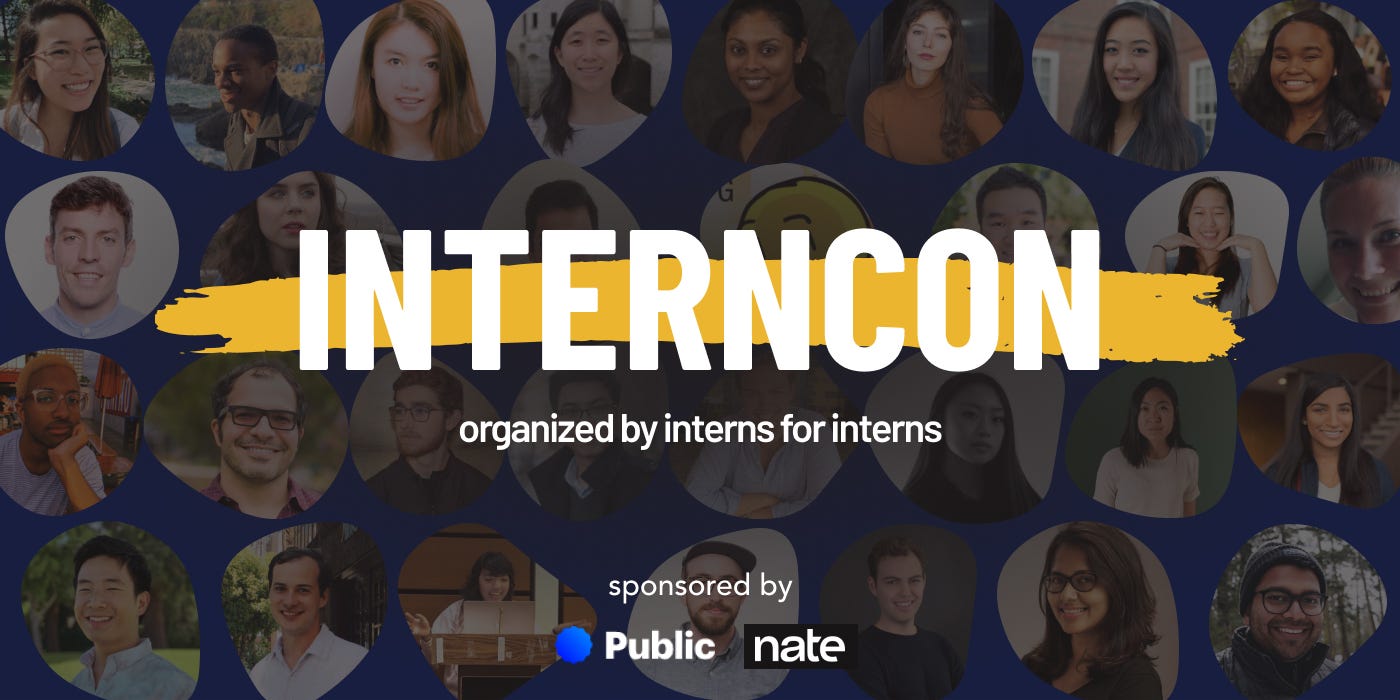 Events
🔢 Q&A: Debugging Data Science with Nick and Kevin - 28th July - RSVP
Kevin works as a Data Scientist at a Hedge Fund, and worked at Facebook as a Data Scientist on Facebook Groups. He's also the founder of DataSciencePrep.com , a program that has helped hundreds of students with job hunting in data science.
Nick previously worked at the data startup SafeGraph, and before that was a Software Engineer on Facebook's Growth team and an intern on Google's Nest Labs Data Infrastructure team. His monthly email newsletter on technology careers has 40,000 subscribers and his career advice on LinkedIn has been read by millions of people.
📕Notion Workshop w/ Ben Lang - 29th July - RSVP
Join Ben Lang from Notion as he goes over the best tips and tricks for getting the most out of your favorite do-it-everything tool.
About Ben: He spent the past two and a half decades hopping between New York, Tel Aviv, and San Francisco. He's a product builder, former founder, and community guy, always in multiple places at one time, currently working on tools for thought at Notion.
🎯Down the Funnel: A Look into Product Marketing - 29th July - RSVP
This is an Intern Week special event on Product Marketing, which we consider to be the best hidden role in tech. For this great event, we've invited Samanee Mahbub, who's a Product Marketing Manager (PMM) at Transfix!
Prior to this, Samanee graduated with a BA in History from Brown. She's worked as a brand marketer at Rothy's, and a product marketer at Slack and Crunchbase. Before finding her footing in PMM, Samanee went through 8 different internships at roles in NGO's and finance. Come with questions, an open mind, and be ready to be convinced that you're going to put everything down to recruit for PMM!
🎨 AMA w/ Hasque May by Explain the Valley - 30th July - RSVP
Hasque May is the creator of Cofolios (300,000+ page views), the site that every young designer references for design portfolios in tech. He's helped mentor 200+ young designers and will be joining Instagram as a Designer in a couple of days!
💰The Back of the Napkin: Venturing into VC - 31sth July - RSVP
This event is another Intern Week special. The Club is so excited to be hosting "Back of the Napkin" with Arjo Mozumder, an Investor at Point72 Ventures.
Arjo is a venture associate at Point72 Ventures, focused on applied AI and robotics investments. He specializes in the automation of core workflows across several verticals, including logistics, manufacturing, real estate, and construction. He leads the AI/ML vertical of EVCA, a national non-profit community of venture capitalists. Arjo studied Finance and Statistics at the University of Texas at Austin, where he founded Convergent – an incubator and educational organization with operations in Berkeley and Austin.
✍🏽 Design with Artificial Intelligence: Workshop - 1st August - RSVP
Before InternCon, join us and learn from a special visitor from Europe.
Florian van Schreven is the co-founder and COO of Uizard Technologies, a startup developing AI-powered tools to revolutionize the way people build software. He has previously spoken in conferences such as UX Copenhagen, Confront Sweden, and Web Summit Portugal. Uizard has been recognized globally and featured in international media such as WIRED, Forbes, The Huffington Post, and The Next Web.
---
With the recruiting season starting soon, we asked our community what they wanted our next big event to be👇

For companies => If you want to be part of the first-ever InternFair and hire the best interns anywhere, reply and we'll follow up.
For job seekers => We are creating an invite-only directory of people that you can tap into for referrals and interview prep guidance. Join intern.club to learn more.
Want to get more involved with intern.club and bring joy to students everywhere? Let us know.
---
We will be taking a break next week but will be back better than ever!